Let's Cook
From Cereal to Salads: My Journey to Better Lunches
Life often feels a lot like that whack-a-mole game we all know and love. And let me tell you, I was a master at it. Forget using just one heavy mallet - I was a both-hands-in-the-game gal, always determined to max out my tickets. This says a lot about how I do life now.
But this two-handed, max out my rewards approach to life is a bit exhausting. Because, unlike that wild little arcade game, this real-life version never ends.
When I think about our day-to-day life at home, we are finally at a place where we have mastered dinner time. (Thank you one-click recipes and the Gather'd favorite button!) But it never failed that I was eating cereal or a sandwich when lunchtime rolled around. I definitely care about what I feed myself, but not enough to make one more recipe, right?
So, I decided to work smarter, not harder. Now, on Sunday nights, I pick up that giant heavy mallet (or, in this case, my trusty kitchen knives) and prep our dinner AND my lunches in one simple swing. I don't think I'll ever want to meal prep all day, but this two recipes at once thing felt doable.
At first, it was a puzzle. What could I make that wouldn't feel exhausting, that the kids would eat, and that I'd enjoy all week? And after some trial and error, I've figured out a few things that work for us.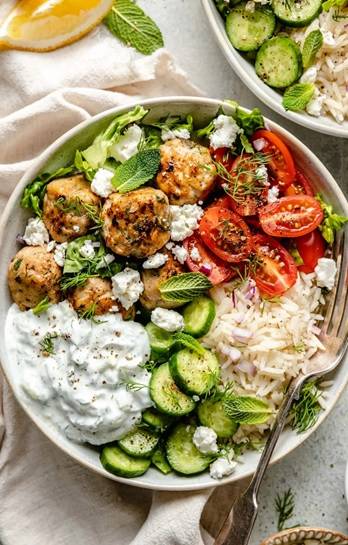 Make a big batch of versatile main items.
We know the classic equation that extra taco meat equals taco salad for the week. We love that one too, but here are a few other favorites.
Greek Chicken Meatballs - For our dinner, we wrap these up in our favorite Metro Market pita with tzatziki with a side of rice or quinoa for dinner. The rest of the week, I eat this as a salad with romaine lettuce and veggies. (You can double these meatballs and freeze them uncooked in a ball; your future self will thank you!)
Italian Baked Chicken Meatballs - For dinner, we serve these with some pasta and a small side salad. For the rest of the week, I eat these with any roasted veggies I have on hand. This recipe is also perfect for doubling and freezing.
Pretzel Chicken and Avocado Bacon Salad - We make a big batch of this chicken and serve it with a baked sweet potato for dinner. While this cooks, I prep the salad dressing + cook the bacon for my lunches.
Classic Chicken Salad - This combo utilizes the classic Instant pot shredded chicken. For dinner, we make bbq sandwiches with this yummy Stubbs sauce. While that is simmering, I'm chopping and mixing some chicken salad for the week. I love this classic chicken salad on sourdough toast with a simple green salad on the side.
Taco Salad - This is the OG double-duty meal. We double a batch of taco meat. My kids always love a good crunchy taco (with these pretty delicious refried beans). The toppings are cut and saved for some great salads all week.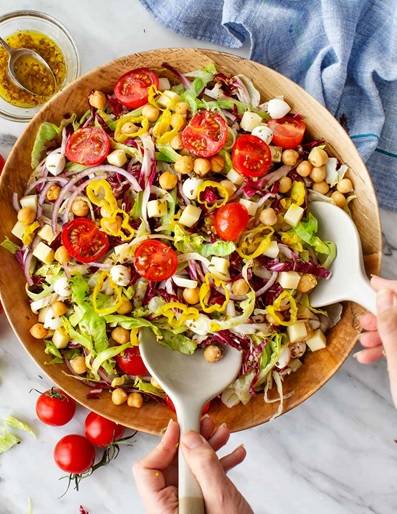 Mix an easy dinner alongside a complicated lunch recipe.
I'm still working on this one, but the idea is to choose a very simple dinner, and while that's cooking, you have the time to make something a little more complicated for the week ahead. So far, I found this combination to be a winner:
Italian Chopped Salad: I'm obsessed with this refreshing salad and I could eat it all month. I usually prep this while I make a simple spaghetti with premade sauce for the family.
If you have any other combos you love, please send them over! We'd love to share them.
Shop The Story
Essential Baking Company
Sliced Bread Fremont Sourdough, 24 oz
Metropolitan Market
Greek Style Pita, 12 ct
Stubbs
Original Barbecue Sauce, 18 oz