Let's Cook
A'more for Meatballs
Last year, on my daughter's birthday, she chose to go out to a local Italian restaurant with our family to celebrate. It was more of a formal sit down place compared to the usual drive-in burger joint she loves but knew this meant her two brothers would be forced to wear jeans and a button up shirt, making her birthday that much sweeter. After browsing the menu full of detailed descriptions of hand cut pasta, braised lamb shanks and a fresh burrata salad with local, heirloom tomatoes she chose a classic bowl of spaghetti and meatballs. I questioned her choice, thinking she would have wanted a fancier ravioli option but she simply replied, "Mom, sometimes less is more."
I went home that night, my belly full of carbs and sweet espresso filled tiramisu, and thought more about her comment. When done right, a meal doesn't need to be overly complicated or full of lengthy ingredients. Simple, good for you food is delicious all on its own.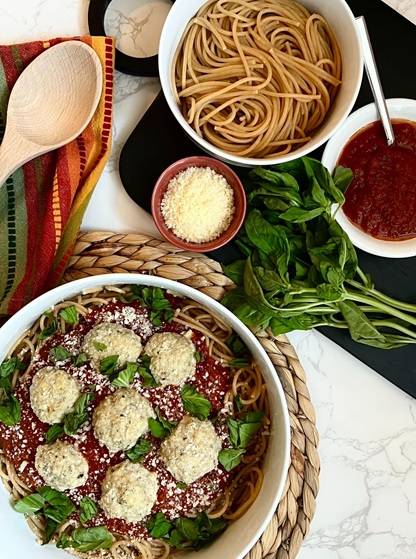 Since that celebratory meal I've gone back to pasta night time and time again. It's quick, cheap and balanced when I throw in a few stalks of steamed broccoli on the side (with extra cheese of course). My kids gobble it up, requesting another meatball to soak up the extra sauce leftover on their plates. And I'm left with that same feeling of fullness, knowing that I've given my family a delicious, healthy and simple meal. It's as easy as that.
These baked chicken meatballs come together in no time and can be prepped ahead of dinner so they are ready to go when you need an easy meal. A seemingly boring pound of ground chicken is transformed into juicy meatballs with only a few pantry staples you surely have lying around. Even better, double the batch and you'll have leftovers ready for meatball subs tomorrow night. If ground chicken isn't available, go with turkey or even lamb. And feel free to use fresh or dried herbs, let's not make this complicated.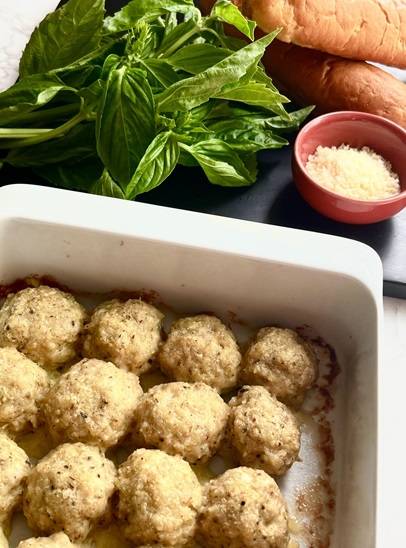 Mix your ingredients, scoop and roll the meatballs and bake until fully cooked. Serve with a side of hot pasta, fresh tomato sauce and a healthy sprinkle of parmesan cheese.
Shop The Story
PCC
Organic Ground Chicken Breast, 1 lb