Let's Gather
Easy Mom Magic: Tea Parties at Home
Tea time and poetry every Friday afternoon - that's what marked our weeks in the throes of the pandemic. It was a brilliant idea I got from an amazing mom blog, and it felt entirely doable. We'd set out a beautiful tablecloth, added a vase of whatever beautiful flowers we could find outside, and read Mr. Rogers' poetry or the classic Shel Silverstein while snacking on delicious treats. It was a perfect escape from our Groundhog Day Covid life.
But like many pandemic routines, our tea time tradition was left behind when normal life returned. That is, until my daughter was inspired by the fabulous Fancy Nancy and begged to bring it back. Honestly, I was happy to oblige. Who doesn't want to add some fancy into their everyday lives?
This time around, we started our tea planning with a trip to Goodwill. My daughter's eyes sparkled with every pretty thing that she came across. "Oh, this is fancy!" she exclaimed, and of course, it went immediately into our cart.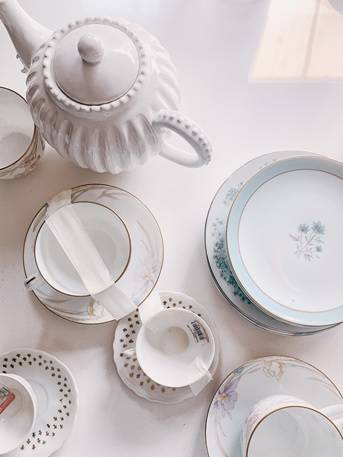 But let's be honest, the thought of creating all of this "mom magic" in the midst of a now-busy life can feel overwhelming. However, with the help of Gather'd, I can just press a few buttons and have everything I need delivered to my door. This time, I plan to keep our tea time tradition going for as long as she'll let me.
Shop The Story
Celestial Seasonings
Honey Vanilla Chamomile, 20 ct
Devon Cream
English Double Cream, 6 oz
PCC
Mini Cream Scones, 8 Pack
PCC
Mini Vegan Blueberry Scone, 8 Pack
Whole Foods Market
Blueberry Scone, 14 oz - 4 ct
Whole Foods Market
Chocolate Chip Scone, 14 oz - 4ct