Playing With Your Food
Simplicity is the Heart of Italian Cooking
Growing up I experienced Italian food with all of my senses. I watched Nonna stir the salsa for Sunday lunch, chop the pungent garlic into tiny pieces with the smallest, most dull knife, and use all of her might while she said "oppalah" (a term she coined for lifting heavy items) to pick up the liter and a half of olive oil she used to fry the meatballs.  
My Nonna's style of cooking taught me that Italian food doesn't have to be drenched in tomato sauce and cheese, that vegetables can be the star of a meal, and that sometimes meals can have less than 5 ingredients and still be AMAZING!  
That's actually the beauty of Italian cuisine, you don't have to have a long list of ingredients for the meal to be flavorful…the quality of the ingredients however, do matter! The Caprese Salad is a perfect example—tomatoes, mozzarella, extra virgin olive oil, and basil; this sounds so simple, and it is, which is why the quality of the ingredients is so important.  
While there are 20 distinctly different regions in Italy, these 6 ingredients are common and essential to all regions: extra virgin olive oil, garlic, tomatoes, oregano, basil, cheese, and wine.  
These flavors pair so well together because they all bring an essential flavor element with them to the plate; the peppery (spiciness) of the extra virgin olive oil complements the bitterness of garlic, and the sweetness from a vine ripened tomato. The salty/umami from cheeses like parmigiano is mellowed by the sweet tomato, and rounded out by the fresh herbs. All of these flavors are perfectly paired and tied together with a complexly tart (sour) wine (whether you are cooking with the wine or sipping it while enjoying the meal).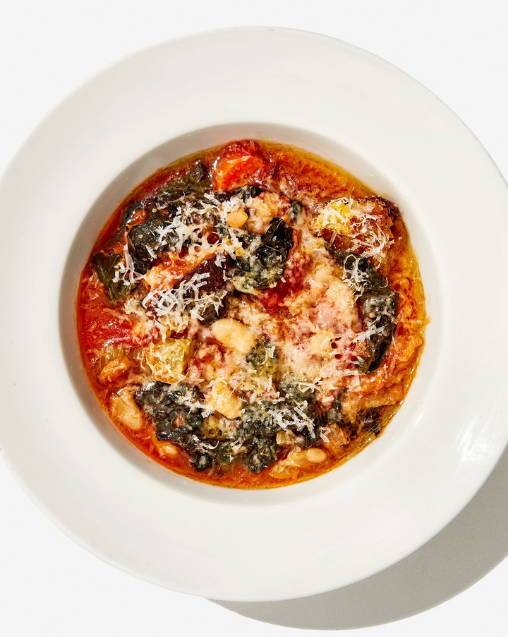 By Bon Appetit

The Ribollita, is a great example of how these flavors can play a different role in a dish. The peppery extra virgin olive oil adds more depth to the rich soup and complements the umami of the grated parmigiano—it's like adding salt and pepper, but with more flavorful ingredients.
By Memorie di Angelina
The Pizzaiola is a fun dish to explore Italian flavors.  Because of its simplicity, you can gain an understanding of how these flavors work together and how small changes in the preparation of one ingredient (roasted garlic vs raw, fresh herbs vs dried) can change the whole dish!